If you see this, your JavaScript might be disabled or DiscordIntegrator plugin isn't working. If the latter, please contact a wiki administrator.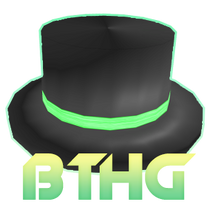 Welcome to the BTHG Wiki!
---
Banded Top Hat Games is a group created by redmiint8 and GeForce03. This group is dedicated to making Roblox games for others to enjoy. You can look below to find the games they have created and what they're about. The BTHG Wiki is designed to give extra information to those who are curious and want to learn more about the games. If you're new to the wiki, please consider reading the Rules.
---
RBLXWare is a Roblox game created by redmiint8 & DewTie that is based off the WarioWare series and the Team Fortress 2 mod TF2Ware. The game features 17 fast paced microgames that get faster overtime. Winning a microgame scores you a point, and you'll win if you score the most points.
---
Battleboards
is a Roblox game created by redmiint8. Battleboards is based off of the old flash game Jelly Battles. The game has players put onto a board and must use special powerups to kill their opponents in a turn based style. The last person standing on the board wins the game.
---
Defend The Train
is a Roblox game created by redmiint8. The game is about defending a moving train from incoming waves of enemies using 3 classes that each have their own role. The game will go on forever until the train blows up or if all players die in a wave with the game getting progressively more difficult the longer it goes on for. This game was originally created by gombob in 2011 with the remake being made by redmiint8 to return the game into a playable state and put our own spin on the idea.
---